Introduction to Hino Seita Ginza Shopping District

Our Hanno Ginza shopping area is green and with a clear flow in the city of Hanno.
Seibu Ikebukuro Line [Hanno Station]. There are 84 shops around the north entrance. The Showa's atmosphere is a vibrant shopping area.
In 1951 (The 26th year of the Showa period), founded as a cooperative, at that time in the summer during the "Tanabata Festival" and in the winter during the "Oku Musashi Ekiden", huge crowds came and gathered around the center of the city.
After that, in the spring of 1971 (the 46th year of the Showa period), we have collaborated, promoted and co-produced singing songs for over 30 years,
In 1991 (The 3rd year of the Heisei period) The "Dream Festival" was held in commemoration of the 40th anniversary, and now it has changed its name to "Friend Park" and continues as an annual event in summer.
Even now in recent times, traditional shopping street scenery still remains in the city.
It is also familiar as a shooting stage for TV for shows like "Monkey Rock" starring Ichihara Hayato, and movies like Sho Sakurai, Yasutaman "starring Yukari Fukuda, and Animations like "Yamano Suzume".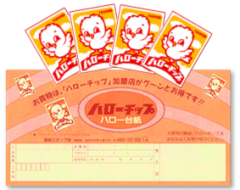 Hello chip is a service ticket which is done at the "Hanno Stamp Association".
You will receive 1 Hello chip ticket for every 100 yen shopping at affiliated stores
When you have completed sticking chips to 1 Hello chip mount paper, now you can shop for 500 yen anywhere at a franchise store.
We will also handle deposits at the Hanno Shinkin Bank (central branch) and Towa Bank (Hanno Branch).
Hello chips can be used to participate in fun events (lotteries, exchange meetings, invited trips etc.) with the chips collected.
Hello chip has no expiration date, so you can use it many years ahead.
Even when shopping with Hello chips and you carry a fully pasted-board, we still offer 1 chip per 100 yen.
Hello chip is a "second currency". Please make full use of it.
Please keep in mind, and do not hesitate to ask for mounts which are available at each affiliated store.